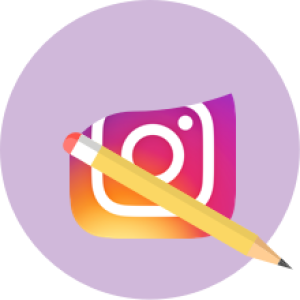 Why Would You Deactivate Your Instagram Account?
If you're like any other photo-fanatic, you probably have an Instagram account. Instagram is a top performing social media network owned by Facebook, and has over 330 million monthly active users.
Many Instagram users are deciding to deactivate their Instagram over fear of having their privacy breached. This concern is reasonable, considering WhatsApp (another Facebook-owned company) has been questioned by users this year for a new policy in which they share personal user data with Facebook. Could a similar situation be happening at Instagram? For countless users, it is better to be safe than sorry. That's why we're sharing how to easily delete your Instagram account in 3 quick steps. 
We also recognize backing away from Instagram altogether may not be the best option for some people. Users who rely on the social media platform to stay connected with friends and family or engage with a community on Instagram can still take measures to safeguard themselves online to great extent. Users can take steps such as limiting what personal information they share or choosing not to make that information visible to the public. It is also recommended that you omit physical location mentions in content or hashtags and adjust your privacy settings in your account, thereby restricting what the Internet knows about you.
As another layer of protection atop being vigilant with your account settings, a VPN service like VyprVPN will help you use the Internet as it was intended to be used: securely and without limitations. Our fast, powerful network offers a safe, secure connection each and every time you go online, enabling you to better protect your privacy. When you connect to VyprVPN your data is encrypted and your location is masked, which can prevent hackers and third-party snoops from viewing your personal communications, information and data. We make it simple to install VyprVPN, choose and change server locations, and tailor your connection to best meet your needs. Maintain your privacy online and sustain a fast, stable Internet experience whether you're browsing from a desktop, laptop or mobile device. Sign up for a Free Trial today and see how VyprVPN can improve your browsing!
Deleting Your Instagram Account Permanently
Once deleted, your Instagram account will no longer exist and people cannot search for you on Instagram or access your profile any longer. To delete your Instagram account, follow our easy 3-step guide below.
Sign into your Instagram account and navigate to the Delete Your Account page (accessible on the web app only).
Select an option from the drop-down menu next to Why Are You Deleting Your Account.
Click or tap Permanently Delete My Account.
That's it. Your Instagram account has been permanently disabled.
More Ways to Protect Your Privacy
In addition to deleting your Instagram account, you can take other steps to protect your privacy online when using social networks. The first step is awareness, and you should be aware of the following:
Information you post to social media is publicly visible, so think before you post.
Even if you manage your privacy settings, there are still privacy concerns "behind the scenes" as Instagram may be collecting data on users.
There is often metadata associated with photos you post, which includes revealing details like the location the photo was taken and the time and date.
Understand how your social media applications connect to other apps, and that data sharing may occur across programs.
To protect your privacy while using social networks, you can also do the following:
Think before you share: Information shared on social media is publicly visible, so remember it is visible to a large amount of people.
Read the privacy policy: Be sure to understand the privacy policy of the social network and adjust your settings accordingly, and be aware of how your data is being collected, used or sold. It's important to be aware that data may be shared among companies with the same ownership (for instance, Instagram and Facebook).
Use a VPN: A VPN is a tool that encrypts your internet connection to secure it. It protects online privacy, data and information when browsing, sending communications or doing anything else on the internet. A VPN safeguards against invasive governments, ISPs or hackers viewing your activity. You can try out a VPN here.
Adjust your privacy settings: Set your privacy settings within applications to control how your information is shared and what is kept private.
Source: Instagram Help Center