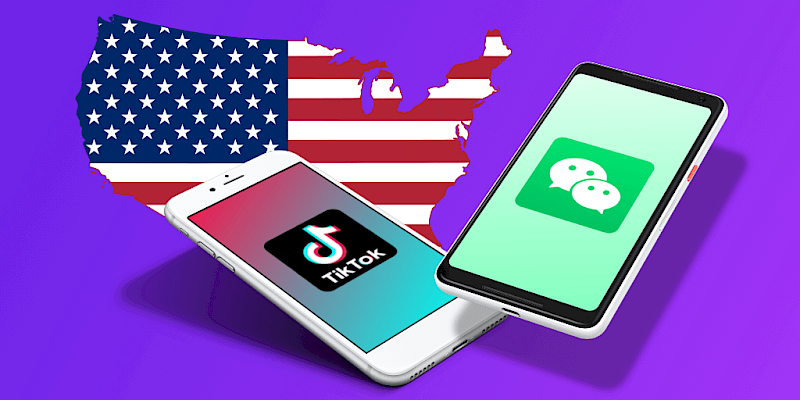 Worried About Being Banned From TikTok or WeChat By Your Government? Bypass Censorship With a VPN
TODO ?>
Update June 10, 2021: 
The attempt to ban TikTok and WeChat has been revoked in the United States today, with introduction of a new executive order. The new order instead calls for a mandatory review of applications created by select foreign countries, with the goal of identifying which pose security risks. This could have wider-ranging effects, as it targets more than just individual companies. Although China is a focus of the reviews, applications created by select other nations are encompassed as well.
Original Post – September 18, 2020:
It's official. The United States government announced today that it will be banning popular Chinese-based applications TikTok and WeChat. Previously, the government had floated the idea causing alarm for the apps' massive user bases. The ban for WeChat is scheduled to start this Sunday, September 20 and the ban on TikTok is slated to go into effect on November 12.
It's being reported that the ban will be enacted by two main methods:
Removing the applications from the Google and Apple app stores in the United States
Making it illegal [for internet service providers] to host traffic associated with the applications
What Does a TikTok and WeChat Ban Mean for Application Users?
For users living in the United States who already have the applications installed on their devices, the ban means you'll be unable to update your applications with the latest versions. For those who do not have the applications, it means you will be unable to download them from US-based app stores once the ban goes into effect.
When it comes to WeChat the restrictions are greater; a release from the US Commerce Department states it will be "illegal to host or transfer internet traffic associated with WeChat." Presumably, this means that ISPs will be responsible for blocking access to the applications from their networks. Implications for people using the previously-installed applications are not yet clear, although one source states that users will "not be targeted or subject to penalties."
Come November 12 TikTok users will face a similar same set of circumstances. It is possible, however, the TikTak ban will not come to fruition. Currently, the companies Oracle and ByteDance, the Chinese parent company of TikTok, are working on a deal by which the application would address security concerns and thus be able to remain operable in the country.
What Can WeChat or TikTok Users Do About the Ban?
If you're a user of either application, there are a few things you can do to attempt to retain access to your applications.
Download or update to the latest version of the application from the app store in advance of the ban going into effect
Get a VPN, which can help you circumvent censorship and blocks on popular applications, websites and content around the world (more detail on this below)
Seek alternate forms of communication with loved ones overseas, so if access is lost you are still connected
At VyprVPN we stand for a free and open internet experience for internet users around the world. We're committed to fighting censorship, and will be sharing more information on how you can bypass the bans on WeChat and TikTok next week in a detailed guide. Stay tuned!
Background on the United States Ban on Popular Applications
Original Post - August 31, 2020: Things aren't looking good for the millions of users of TikTok and WeChat living in the United States. On August 6, President Trump issued two executive orders banning the download and use of the social media apps. The bans - which are set to take effect mid-September - are part of the administration's efforts to disable apps it deems are a threat to national security. This isn't the first time the popular apps have been banned; India's government banned them both, along with 57 other Chinese apps, last month. Many other countries around the world routinely ban access to social media applications as well.
TikTok and WeChat are immensely popular. TikTok has been downloaded from the Apple App Store and Google Play more than two billion times, and in the first quarter of 2020 alone WeChat had more than 1.2 billion monthly active users. The government's threat of a ban leaves a large number of people upset, especially daily users that enjoy watching TikTok's addictive videos. The impact to WeChat users is even greater, with many people relying on the messaging app to stay in touch with friends and family abroad. 
How to Bypass the TikTok Ban with a VPN
As concerned users try to figure out ways around the bans, many are finding that a virtual private network, or VPN, is a great solution. VPNs have long been instrumental in the fight against internet censorship and government-imposed blocks. VPNs allow a user to change their IP address to bypass censorship and other location-based restrictions. Many people use VPNs on a daily basis in countries that filter the internet or prevent their citizens from accessing content, such as those living in China and subject to censorship under the "Great Firewall."
As a VPN provider we've been committed to supporting a free and open internet since our company began, and that's especially true when it comes to bypassing censorship blocks. We are proud to provide a way for people around the world to bypass censorship and access a free and open internet. Our Chameleon protocol was designed specifically for this purpose, and to defeat VPN-blocking imposed by the most restrictive networks put in place by governments. 
It's important to note there is a chance that the bans might not go into effect. ByteDance, the company that owns TikTok, is negotiatingwith Microsoft to sell its US-based operations which would take that app off the chopping block. Regardless, being prepared with a VPN isn't a bad idea.